2017 Grenache Rosé
Multiple Medal Winner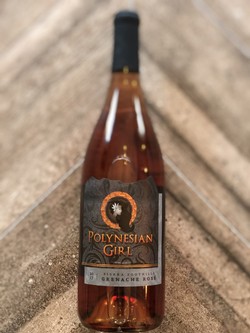 Grenache is probably one of the most planted red wine grape varieties in the world. It ripens late, so it needs hot, dry conditions such as those found in Spain, where the grape most likely originated. You find it in many southern Rhône wines, especially Cháteauneuf-du-Pape where it is typically over 80% of the blend in a Grenache Syrah Mourvedre (GSM). Grenache is also used in most Spanish Rioja wines where it is blended with Tempranillo. Grenache is the most commonly used grape to make rosé.
In our area, the 2017 vintage seemed to produce more rosé than in other years. The obscure weather patterns played a huge part, especially a 3-week period of 110-degree temperatures that sent the sugar levels soaring. Vintners had to decide whether to pick early or water heavily and cross their fingers that the sunshine would persist and hope that the season would level out. Others chose to harvest early.
We resisted the temptation to pick early so that our grapes could fully ripen on the vine. Rosé was a planned wine for us this year and, being avid red wine drinkers, our aim was to produce a rosé for a red wine palate. Our wine is not a standard French Provincial rosé that is pink and sweet. It is a completely 100% dry (no sugar) wine with a rich salmon color.
This is a 100% Grenache made from our very own Apetahi Estate grapes.
We picked the grapes at 24 brix, putting the alcohol content at 13.9%. The grapes looked beautiful and we used half the yield to make this rosé while leaving the remainder to ripen on the vine for our 2017 red wine Grenache. We immediately de-stemmed and crushed the berries, then added our Viognier skins that had been frozen after pressing. This process locks in color and flavor. We let the juice stay on the skins for about 14 hours, then we pressed it into a stainless-steel tank where we slowly cold-fermented it over several weeks.
Close to the end of fermentation, we fined it by using a clay slurry. This step allows the slurry to attach itself to large particles and precipitates them out of the wine. We racked the wine off the lees and clay slurry and put it into French neutral barrels for 3 months of aging. This bonds the oak tannins into the wine and allows for better ageability. We did not use malolactic fermentation.
We racked the wine out of the barrels after 3 months and returned it to a stainless-steel tank for cold stabilizing. It was then filtered through a .65-micron filter and bottled.
Wine Specs
Vineyard Designation
Apetahi
Aging
3 months in neutral French oak
Fermentation
No Malolactic fermentation
Wine Profile
Tasting Notes
Very clean and fresh across the palate, nicely balanced with red fruit notes of strawberry and cherry. Light tannins on the tongue intermingled with a nice, dry, acidic zip. Drink cold and enjoy this refreshing rosé on a hot sunny day!
Awards
• Bronze Medal in the 2018 International Experience Rose' Competition • Bronze Medal in the 2018 Amador County Wine Competition
Product Reviews