2016 Late Harvest Malbec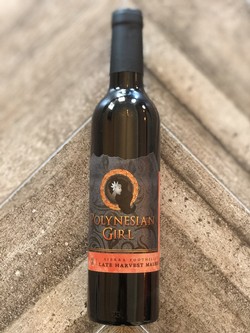 Our Malbec clone originates from one of the original Bordeaux plantings. When Bordeaux is mentioned, many people think 'Cabernet Sauvignon', but much of Bordeaux was wiped out in the late 1800s by the Phylloxera aphid that caused wide-spread disease throughout the vineyards. Cabernet has only been around since the 19th century and Malbec was the primary grape grown in the region before the replanting.
This is a 100% Malbec made from our very own Apetahi Estate grapes.
The Late Harvest is a very limited wine and a risky one to produce. Not knowing if the weather would cooperate, or, if the grapes would even survive, we left 2 rows on the vine until early December, Fortunately, they held and continued to ripen. At harvest, they measured at 43 brix (sugar content). In comparison, most red grapes are picked between 24 to 28 brix.
At harvest, we hand-sorted the grapes. This pick was more labor intensive as to ensure that only the choicest berries were kept. The juice was thick, rich and dark. We fully de-stemmed and began fermentation immediately, allowing the yeast to stop naturally when it reached a point that it could not tolerate the alcohol level. This created a very balanced, rich dessert wine with a naturally high alcohol content, without fortification.
100% new Hungarian oak was used.
This wine will not be available each year. If you are a port lover, this wine will win you over!
Wine Specs
Vineyard Designation
Apetahi
Aging
Aged in 100% new Hungarian Oak
Fermentation
No Malo-Lactic
Wine Profile
Tasting Notes
Deep, dark, intense, clean black fruit drenches and coats the inside of your mouth. Thick smooth and balanced opening to black current mid pallet with a rounded sweet very very long finish and a hint of vanilla wrapped in chocolate.
Product Reviews