2017 Grenache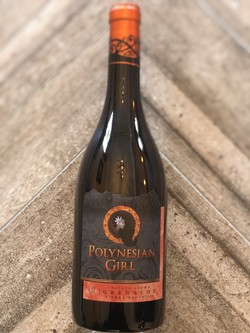 Grenache is probably one of the most planted red wine grape varieties in the world. It ripens late, so it needs hot, dry conditions such as those found in Spain, where the grape most likely originated. You will find it used in many southern Rhoné wines, especially Cháteauneuf-du-Pape where it is typically over 80% of the blend in a Grenache Syrah Mourvedre (GSM). Grenache is also used in most Spanish Rioja wines where it is blended with Tempranillo. Grenache is the most commonly used grape to make rosé.
These grapes need to ripen later into the year, making for a high sugar, and often, high alcohol wine. Grenache loses its acidity quickly as it ripens and must be crushed with care as it easily oxidizes (browns). All factors must be in balance when considering the perfect time to harvest.
This is a 100% Grenache made from our very own Apetahi Estate grapes.
These berries were hand-sorted. We fully de-stemmed the clusters and used inert gas to displace oxygen and protect the must from oxidation. The juice was put through 48 hours of cold-soaking to extract a very light, red color from the skins.
Wine Profile
Tasting Notes
On the nose this Grenache opens with a big, fruit forward nose of Cherry, cocoa and cinnamon. The wine has a beautiful Garnet color that is bright and clear. The generous mouth feel has hints of melon, cherry, cinnamon, blackberry and cocoa. The finish is balanced and persistent with caramel and butterscotch.
Product Reviews